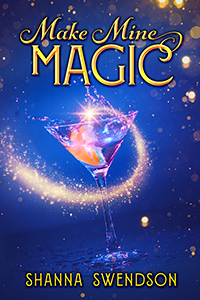 I've mentioned that I was working on this, but it's finally here — the e-book and paperback versions of the audiobook Make Mine Magic will be coming next week, released on July 29. You can pre-order at the major retailers.
And for all others, here's the Universal Book Link
This is a contemporary fantasy similar in style to Enchanted, Inc., but probably less funny, since I wasn't aiming for outright comedy, and in a different fictional universe. I've been asked if this will be a series, but I really have no idea. I wrote it for Audible as an Audible Original, but they changed that program, so they aren't doing more original novels. It's mostly shorter pieces or tie-ins to existing series. So, they haven't asked for more books. Whether I write more will depend on how well the print book sells. I left it open for a possibility of more books, but I don't actually have a story idea for another book right now. It's a fun little magical romp, and I wanted to release this version because I know there are people (like me) who don't do audiobooks.
There's more info on the book's page on my website.
Then the next Lucky Lexie mystery will be coming in late August. I'm editing it right now, and I already have a cover done. More details later as we get closer to that time.