New Mystery Ready to Pre-order
by
I know it seems I only put out a new book a week or so ago, but the next one is already available to pre-order. You can order Lucky Lexie book 4 now from the major online stores, and it will be released on August 20. The paperback will be available around the release date. I'm adding links as I get them to the page on my site.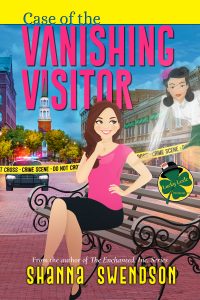 This is a twisty little tale that was fun to write. I took a familiar old plot and added the wrinkle of my heroine's ability to see ghosts. Earlier this year, I found a recent BBC production of The Lady Vanishes on a streaming service. This is a mystery/thriller about a young woman traveling by train across Europe. She strikes up a conversation with a woman seated in her compartment, has tea with her in the dining car, then falls asleep upon returning to their compartment. When she wakes, the woman isn't there, and when she asks about her, nobody else in the compartment remembers ever seeing her. No one in the dining car seems to have seen her. But the young woman is sure she was talking to someone, and now she's worried that something happened to her. While watching that movie, I couldn't help but think about how much more complicated it would be if the heroine could see and talk to ghosts. How would she know if she'd imagined the whole thing, if she'd been talking to a ghost, or if everyone was lying to her?
And that kicked off the story idea. I couldn't resist doing something like that, with Lexie meeting someone whom no one else recalls seeing. Add some of the interesting local talents and the world's most observant (and nosy) neighborhood watch, as well as another twist or two, and I had a story.
Meanwhile, I started writing the next Lexie book this morning. This is a story idea that's been in my head for a long time, but I didn't have the right characters or situation to use it. It's absolutely perfect for this series, so I'm going to have fun writing it. This one gets the characters out of their usual setting, so I got to create a new cast of supporting characters. Don't worry, some of the regulars will be there, but there are also some new guest stars. My goal is to have this one out in time for Halloween, since it's a nice spooky story.