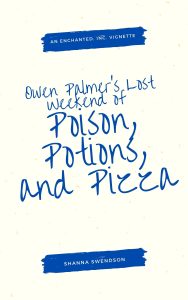 Have you ever wondered what happened right after the events of Enchanted, Inc.? I've written a short story about that weekend from Owen's point of view, and you can get it for free, just for signing up for my newsletter.
You'll also receive news about my upcoming releases, what I'm working on, and other stuff. I'm planning to send something out every month, along with reminders when I have a new book available. Newsletter subscribers also get other exclusive free stories that are newsletter exclusives.
You'll get a confirmation e-mail with a link to the free story, and you may need to check your spam folder or promotions tab to find it. I won't be sharing this list with anyone, so you don't have to worry about being bombarded with e-mails.