The last couple of weeks, there's been a nature documentary series on PBS called Wild Scandinavia, and it's made me realize what's missing in the fictional world I'm working on: wildlife.
My characters have horses, but those are the only animals in the story, aside from one kitten, a mention of bees, and I think a mention of hearing birds. I completely forgot to include wildlife. The characters don't have to swat at flies or mosquitoes. They don't hear wolves or coyotes. No lizards or snakes cross their paths. I don't even know what lives in that world.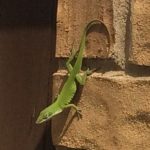 Which is weird because I tend to pay attention to that sort of thing in real life. Even just sitting on my patio, I take note of the different kinds of bugs and spiders. I have what I call the "patio lizards," the anoles who live around my patio and the patio fence. They're so used to me that one's even learned to ask for water. It waits for me to water the plants and splash water, then comes to drink what I've splashed on the ground, and if I haven't watered the plants at the right time, the lizard will sit and stare at me until I give it some water.
My neighbors have a bird feeder, and I watch the birds that come to it—including sometimes even ducks. It's a dish of seeds, not a real bird feeder, which means it also attracts squirrels and rats. I hadn't noticed any squirrels or signs of rats in a while, and then I heard a hawk and later spotted it, which may explain the lack of rodents. I guess that bird feeder is feeding birds both directly and indirectly.
When I go walking, I notice all the water birds that come to the canals in my neighborhood, like the geese, egrets, herons, ducks, and cormorants. We have a few families of Canada geese who winter here. I know they have a reputation for being nasty, but our guests are rather well-behaved. Then there are the turtles in and around the water. I've also seen rabbits and armadillos.
I'm not sure why I've left out this aspect of my fictional world. I guess I've been focused on the plot and there are no wildlife encounters that affect the plot. But I can at least mention them swatting at flies, seeing birds, and hearing sounds.