Pre-order the Next Mystery
by
I can't believe how quickly this crept up on me, but the holidays are almost upon us, and that means we're a week away from the release of my holiday paranormal mystery, the latest book in the Lucky Lexie series, Mystery of the Secret Santa. It's available for pre-order now. The release date is November 17, for those of you who aren't like me and can't deal with Christmas at all until after Thanksgiving. Or you could just make sure you've got it before you dive into Christmas stuff. The action in the book begins on the Saturday after Thanksgiving, in case you want to be totally in sync.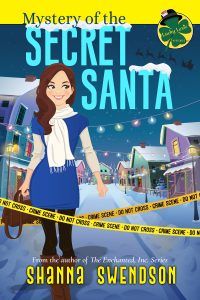 This is a fun little book that doesn't get too dark. I didn't want to write a murder for Christmas, so there are different kinds of cases. Mostly, it's about Lexie getting to live out her Hallmark Christmas movie fantasies as the town goes all-out with a spectacular holiday celebration and finds out that Wes isn't a big fan of Christmas. She thought she was living the "big city career woman comes to small town and meets local guy" story, but maybe it's the "Christmas lover persuades Christmas grump to learn to love Christmas." Unfortunately, she's sidetracked in this effort by the Secret Santa, someone who seems to know all the secrets in the town and is sharing them, leaving notes for people letting them know what other people are doing behind their backs. There's also the occasional gift left, things people never told anyone else that they needed. The gifts are good, but the secrets are really damaging the holiday vibe. And then there's the wave of robberies at fast-food places and convenience stores — crimes in which the robber only takes small things, not money. Who is it and why is he doing this?
This is a fairly short book, so it should be good for the busy holiday season. You can sit down and read it when you have time to take a break. Make some cocoa, get some cookies, put on your favorite holiday music and escape to a small town right out of a Hallmark movie for a couple of hours.
The order links are on the book's page.