That book of short fiction in the Enchanted, Inc. universe is now available for pre-order in e-book. There will be a paperback, but they don't allow pre-orders on those, so that will be available just before release day (I'll try to get it up so that it can be received around release day, but it's hard to judge just how quickly they'll be able to move).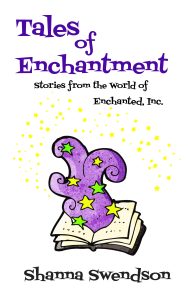 There are three new stories in this book, and they're all longer than short stories. Two are novelettes (longer than a short story, shorter than a novella, so more than 7,500 words). One of these is about Owen and Rod when they were in college. The other happens after Enchanted Ever After and involves Katie's Granny dealing with a crisis before Katie's hometown wedding reception. Then there's a novella (more than 20,000 words) about Merlin's return, about a year before Enchanted, Inc.
The book also includes the two previously published short stories.
I've also included several essays about where I got the ideas for various things in the series and my view of the magical system. All the stories have new author's notes about the inspiration behind them and any other details about the creative process. I've tried to make this book a treat for the fans.
Pre-orders are now available at most of the major online retailers, and I've put the links on the book's page on the website.
Since my birthday is Monday, buying the book would be a really nice gift to me.