While I'm getting nostalgic about what got me started writing various books, I realized that I started working on Rebel Mechanics around this time eight years ago.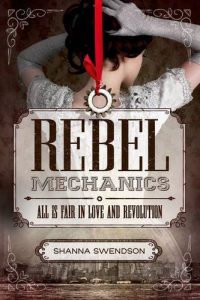 I'd been working on the book that became A Fairy Tale, and I was unhappy with it. I had a vision for it and couldn't quite make that vision work. Meanwhile, I had this other idea that I thought might be more marketable — a steampunk adventure story. I'd been making myself not work on the Shiny New Idea, but thought that maybe what I needed was a break to help me figure out what I needed to do with A Fairy Tale.
That summer, I was also dealing with some medical stuff. I had a frozen shoulder, which involves tissue encapsulating the joint so that you can't move it. It's tricky because it starts with pain in the shoulder, and the natural impulse is to rest that shoulder so it can heal, but resting is what allows it to freeze. I'd reached a point where I could barely lift my left arm when I finally admitted I needed help, and the prescription was physical therapy. It was tough physical therapy that involved not only exercises but also the therapist stretching and manipulating that arm to loosen the tissue. And there was a lot of pain. It's hard to be really creative when you're tired and in that much pain, and since I knew I'd have to do a lot of research to write that steampunk book, I decided to devote the time to doing research.
So, that was my summer of heavy-duty reading. I read more than fifty books to research Rebel Mechanics. I read non-fiction books about New York's history during the Gilded Age, American history, other revolutions, steam power, trains, airships, houses in that era, clothing in that era. I read memoirs of people who lived in that era and biographies of key figures. I also read a lot of related fiction — other steampunk books, science fiction written during that era (H.G. Wells, Jules Verne, Robert Louis Stevenson), novels written during that era or about that era by people who lived in that era. I re-read Jane Eyre (since I was doing the governess thing), read The Scarlet Pimpernel (since that related to Henry's story), read a lot of Edith Wharton (about Gilded Age society).
All the while, I was piling up notes and ideas that I shaped into characters and a plot. It was a summer of wallowing in Victoriana, and I now remember it fondly, in spite of the pain.
I did eventually get full use of that shoulder back and regained my strength in that arm. I'm not quite as flexible as I was before, but I'm trying to work on that.
It also took me a few years to sell the book. I originally planned for it to be an adult fantasy novel, but the adult publishers weren't interested, mostly because a lot of them saw it as a romance and even suggested it be sent to the romance houses (never mind that the romance was quite chaste), or else they said they'd already bought a steampunk book. I tried reading some romances that might be along the same lines (multiple books telling the story of the same couple), but I started thinking it would work better as young adult since my characters were so young, so I read a bunch of YA before deciding to rewrite it as YA. That took me another six months or so, and then it took nearly a year to sell. It was five years from the time I started researching it before it was actually published.