We're now truly into December, right during the time of year when Mystery of the Secret Santa takes place, and I have to confess that I'm still not really into the holiday spirit. I'm pretty much actively avoiding anything Christmassy. I think part of the reason is that we finally got "fall" around Thanksgiving. The leaves started turning brilliant colors the day after Thanksgiving, so it's one of the more spectacular autumns we've had in ages, and then it got warm. It feels like October in Texas and looks like September/October in New England. Since fall is my favorite season, I want to enjoy it before I move on to the Christmas season, so I'm denial about it being December.
I think it also didn't help that I spent the late summer writing a book set during the holiday season. I didn't do anything like listen to Christmas music while I wrote or put up holiday decorations in my office to get in the mood, but I still ended up essentially experiencing the season in my head from making up what this town's festivities would look like and then spending hours a day mentally experiencing it. I may have overdosed on the holiday season during August and September.
But I did have fun creating my ideal small-town Christmas. I based a lot of it on Grapevine, Texas, a town near me that's had itself proclaimed the Christmas Capital of Texas. This town has an old-timey main street full of little shops and restaurants. The area gets covered in lights, the stores do elaborate window displays, there's Christmas music piped in that you hear on the street, and there's a light show synchronized to music in the city park. I like to go there and just walk up and down the street, soaking it all up. I understand it's even bigger now that they've built a new hotel near the train station and there's a whole new commuter rail line that runs through there. They have an outdoor ice rink and a new plaza where I believe the light show is now. Here are a few pictures of Grapevine at Christmas to help you imagine what I was trying to convey in the book.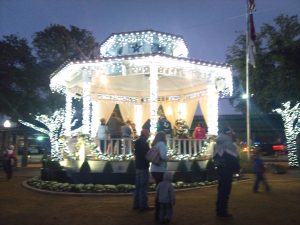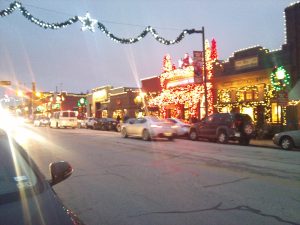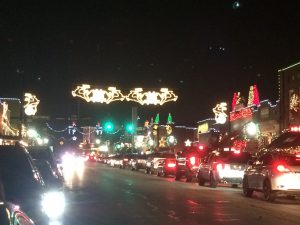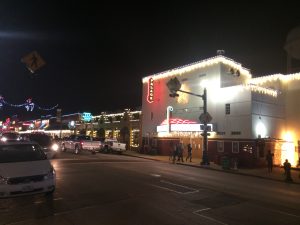 Another town that provided some inspiration is Marshall, in East Texas. They started outlining all the buildings in the old downtown around the courthouse square with lights back in the 80s (when my uncle was mayor there), and it's exploded from there to be a big deal people travel to see.