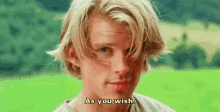 The last time I went to the library, I brought with me the sheet from my memo cube on which I write down the books I want to get at the library. These are generally things I've seen mentioned online and looked up in the library's catalog system. For fiction, I'll write down the author's name and title, but for nonfiction I'll often just write down the call number. I had one of those on this trip and had forgotten what book I'd looked up. I assumed it was a book relating to that project I've been developing. Then I got to the library, found the book, and was surprised to see that it was As You Wish, the memoir about the making of The Princess Bride by Cary Elwes (who played Westley/The Man in Black/The Dread Pirate Roberts in the movie).
That's one of my all-time favorite movies. I can just about quote the entire film, and yet I still enjoy it every time I see it. This book adds another layer of enjoyment to the movie with stories about how the project came about, how various cast members joined the project, and bits about things that happened during production, with some follow-up about what happened when the movie was released and times the cast members have reunited.
It's a delight to learn that this really was a project of the heart. The story was something William Goldman came up with initially to amuse his daughters and that he wrote for love. Rob Reiner wanted to make the film because he loved the book so much and wanted to do it justice. Many of the cast members (including Elwes) were also fans of the book. Meanwhile, the cast and crew all came to love each other. The way Elwes talks about Andre the Giant makes me feel a real loss that I didn't get to know him. Reiner was like the dad of the project, a genuinely caring boss who looked out for his people. "Westley" and "Buttercup" had crushes on each other in real life, which helped create their chemistry (it sounds like neither acted on it, or possibly even admitted it until later, and they just became really good friends).
It's also interesting to learn how little movie trickery there was. That infamous sword fight was not done using stunt men. It was all the actors, who spent months training for it. Every bit of down time during the production was spent on training and practice. The only time a stunt man was involved was for the acrobatic flips. The rest was all them, and it really is good fencing, from the footwork to the way they use their blades.
I got weirdly emotional while reading this, to the point I actually cried when they came to the end of filming and people were saying their goodbyes, feeling a bit sad that this wonderful experience was ending. Then I laughed at myself, since this ending came more than 30 years ago, and if it hadn't ended, I wouldn't be reading this book because there would have been no movie.
I was a bit surprised to learn that the movie was initially considered a disappointment upon its release. It didn't do very well at theaters and only took off later on home video. I'm one of the few who actually saw it in the theater in that initial release. I don't remember having heard of it, but I went with friends (or, more accurately, I was included in a group of friends who went to see it because I was the one with a car) and the friends picked the movie. I loved it instantly. I remember describing it as a spoof that was also the gold standard of the kind of thing it was spoofing. Everyone I knew had seen it and incorporated lines into normal conversation. But I guess I was living in a bubble at that time rather than in the mainstream of popular culture, since I was in college and living on the honors floor (the nerd floor) of the dorm.
In a way, there are parallels to Enchanted, Inc., in that it was mis-categorized and barely promoted, but it's endured and people are still discovering it. It hasn't yet become a pop culture phenomenon that's widely quoted, but maybe someday …
After reading this book, I had to watch the movie again, and I found that it made me love the movie even more. As familiar as it is, I noticed new things from watching it so intently to look for things mentioned in the book. Often, learning how things were done ruins the magic, but in this case, it seems to have enhanced the magic. I've never been all that affected by the relationship between Westley and Buttercup. This isn't the movie I turn to when I'm in the mood for romance. But I got it this time, possibly from knowing the actors fancied each other. I could see how that colored their dynamic. It helps that the last time I'd seen this movie, it was at church when the pastor was doing a series of sermons tied to movies. We had a movie night at the church, then Sunday the sermon used that movie as an example. For this one, it was about steadfast love, that Westley was so devoted to Buttercup he even resisted letting death separate them, while she had absolute faith he would come for her. The romance genre is mostly about the couple overcoming their internal conflicts to develop a relationship, and since that part is glossed over in the opening here, I hadn't thought of it as too romantic. But there is a different kind of romance involved with a couple that's already together who manage to hold on to their love in spite of external conflicts. Their love is a quiet assurance. It's the rock amid all the other drama.
If you love the movie, I recommend reading this book. And then you'll want to watch the movie again.