We're having a weird weather year in which we seem to have mostly skipped fall, going straight from summer to winter. We've already had a freeze, which is really early for us, and this means that we've missed the main reason I love fall: good weather for being outdoors. It went straight from too hot to too cold and damp. My morning glories had barely started blooming when the freeze hit. I had one in a pot small enough to bring inside, and that one is still blooming. Another I was able to move up against the house in a sheltered area, and it looks like it might bloom, maybe even before the next freeze next week. The third I couldn't move because I put one big trellis between two smaller pots, and I couldn't get the whole thing moved. There are some leaves left, but I doubt it will bloom.
My big success this year was in growing celosias, which was entirely unintended. I bought a packet of "annual cutting mix" seeds and threw them into some pots that already had dirt in them. A couple of them turned out to produce zinnias. The rest produced these crazy looking flowers that reminded me of science fiction movies and shows in which the aliens have invaded earth and are terraforming it to suit them, with weird alien plants taking over. I looked up all the plants listed on the seed packet, and none of them seemed to match. I finally figured out they were celosias, also known as coxcomb (though only one of mine went into the cock's comb formation). Those weren't listed on the packet at all.
I've also seen them described as "Dr. Seuss plants," since they look like the kind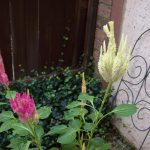 of flowers Dr. Seuss drew. They weren't what I was expecting, and they aren't really what I would consider "cutting" flowers. They keep changing as they keep growing, and the blooms stay rather than blooming and then falling off, so I haven't been able to bring myself to cut any of them. I want to see what they do next. Supposedly, they make good dried flowers, so I may try that when the season really and truly ends.
I love sitting on my patio, surrounded by all my flowers. I had never thought of myself as the gardener type, but the plants bring me a lot of joy. I just wish I had a longer season for them this year. Our summers are so brutal that we don't tend to get the good flowers until September, at least. This year, they didn't really bloom much until October, and then we got a freeze at the beginning of November. I've had maybe three good days to sit or work outdoors in between the heat and the cold.
Today's a gloomy, wet, cold day, which I love, but I prefer it to come after a good stretch of pleasant fall weather. I'd hoped to take a little vacation and go hiking in the Oklahoma mountains, but every time I have a stretch of days when I could do that, the day I'd be spending hiking is forecast for a bitter cold front and rain.
In case you're having a gray day wherever you are, enjoy some of my flowers, with photos taken on a nicer day.